Step 2: Sign up with web hosting company
Congratulations! By now you should have your own domain name.
Don't worry that it's not working because you don't have a website yet.
In order to fix that problem, we'll need a web hosting that offers for "one-click-install" WordPress.
Now, you may think, what exactly is WordPress? And what is web hosting? Let us break it down for you:
WordPress is the world's most popular free website builder, powering over 40% of all websites on the internet. We've compiled the statistics (1, 2, 3) to exhibit and analyse how websites are being built – WordPress is the clear winner.
Web hosting is a service that connects your website to the Internet and subsequently allows you to manage a WordPress website. Entry-level web hosts can cost anywhere between $5/mo to $10/mo – these options are more than sufficient for building out a new website.
Part 1. Sign up with web hosting provider
If you already registered a domain name via Domain.com, you can get WordPress hosting from them too. Simply log into your account and follow this guide.
Alternatively, if you bought your domain name elsewhere, you can use Bluehost web hosting (Comes with 30-days money back guarantee).
They've been around for a while and host both small and large websites. We've been using Bluehost internally for years without any considerable problems or hiccups, so we can recommend it.
Their plans start from $5/mo, but with this link you can get it at a discounted rate ($3/mo). Keep in mind that you cannot pay month to month.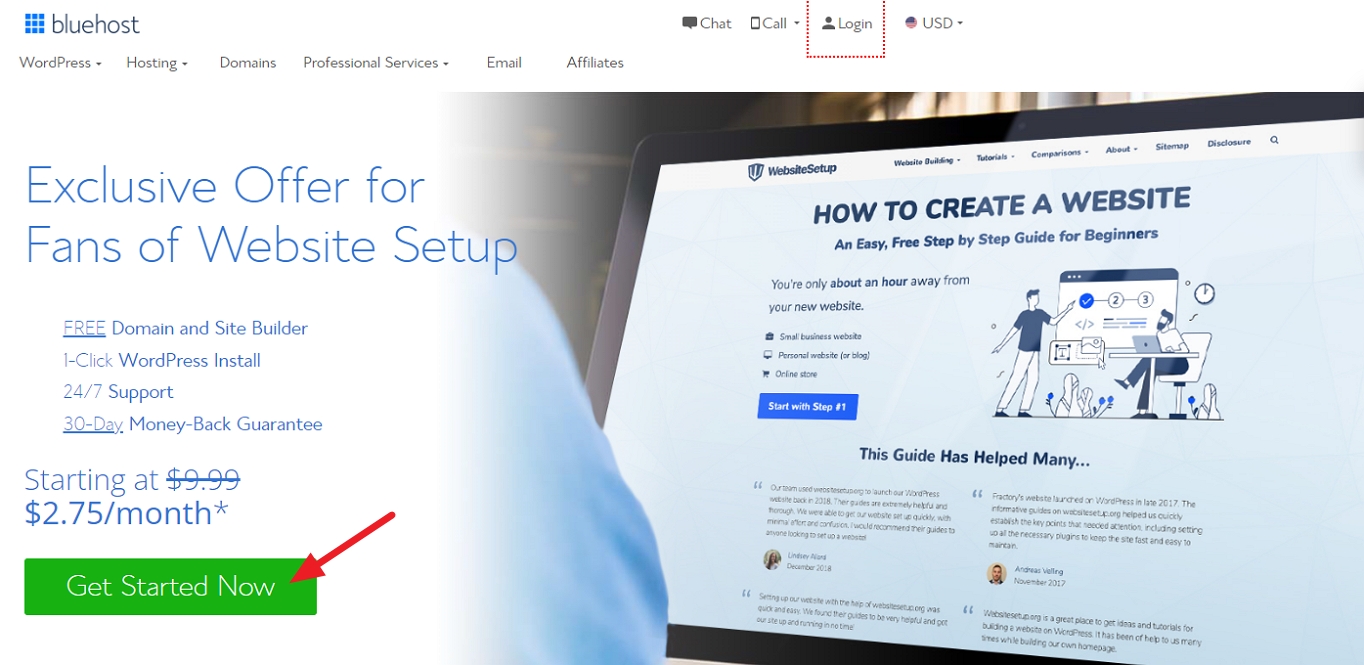 Bluehost will activate your hosting account immediately and you can start using your domain name and WordPress website the registration is completed:
Once you arrive at their homepage, click "Get Started Now". From there, you'll be redirected to their hosting plans page.
Whole proces you can see on this link….